Disclosure: This content is reader-supported, which means if you click on some of our links that we may earn a commission.
Namecheap Founded in 2000, Namecheap began by offering value-priced domains and excellent customer service. This hosting company started as a domain registrar in 2000, and its success in this endeavor led Namecheap to add on other services, including hosting. Today, they have over a million clients hosts and manage over 14 million domains.

About Namecheap
NameCheap was founded by Richard Kirkendall in 2000. He believed that average internet users deserved to have exceptional service and economically-priced domain names. Today, the company has more than eleven million customers and hosts over three million domain names.
Namecheap doesn't believe that it's a luxury to have domains, websites, and hosting packages. They believe it's a necessity. They also believe it's something that should be accessible to all, not just people who know how to write code and play around with advanced dashboard features.
Namecheap's mission is to provide all users with unbeatable service levels, first-class support, and the most secure data protection possible. Customers don't get overwhelmed with upsells they don't need or unnecessary advertising. The company's key values are: to be honest, friendly, straightforward, and helpful at all times.
Web Hosting + Domain Name

Namecheap to The Best Web Hosting Services
Namecheap starts strong with a free domain name, speed, uptime, migrations, and extra plan features like backups.o.
Uptime is one of the most important criteria to look for in a host and it's something that we always test.The good news is that Namecheap delivered a solid 99.95% uptime during the past 12 months. In total, they had three bad months where the uptime was below average.
2. 30-day Money-Back Guarantee
Not happy with your Namecheap experience? No problem. If you decide within 30 days of starting your services that you don't like what is going on, Namecheap will refund you.Namecheap does offer a rock-solid 30-day money-back guarantee. You've got a full month to see if their service is right for you. Otherwise, it's not too late to back out and try something else.
3.Decent Load Time 421 ms
After the uptime, the second most important criterion is speed. The reason it's so important is that speed has been directly correlated with visitor happiness.
Google recently found that the probability of someone bouncing increases over 100% if your pages take up to six seconds to load.
So yes, you need your site to stay alive. If that site is slow, then it's almost as bad. Your site might as well be down because people will be leaving in droves.
Namecheap has been able to post an average page speed of 421 ms over the past 12 months, which easily gets a thumbs up from our side.
Namecheap's Main Features?
Namecheap hosting comes complete with a number of distinct features. Below we will take a look at some of the main features included with this host.
100% uptime service level agreement (SLA). (You'll receive credits if this isn't achieved.)
Namecheap uses the latest server technology from brands like Dell, HP, and Supermicro.
Every component has multiple redundancies, whether it's the power source, the network card or the high speed of the servers.
Pages load extremely fast, a necessity for any business.
cPanel is used. This is the most commonly used control panel in the world and it makes life easier for users.
The Softaculous installer enables you to use WordPress or other apps with just a few clicks. You can update and maintain your applications with great ease.
Easy to upgrade your hosting package if your business grows too big for the current package.
All of their shared hosting plans have unmetered bandwidth.
Twice a week backups for all plans, plus autobackup for free with Stellar Plus and Stellar Business.
100+ single click apps.
Single contact point for billing and support.
No contracts.
Free migration of sites from other hosting providers
Free email accounts with all hosting plans — 30 email accounts for Stellar, unlimited email acounts for Stellar Plus and Stellar Business.
Trusted Brand: Namecheap has been around for over 20 years and is no stranger to the world of hosting. With over three million hosting customers under its wing, Namecheap is doing something right. You can trust that over the years, they have worked out a lot of kinks and today have a generally good product. 
Good Uptime: An uptime you can rely on is an absolute necessity. A high uptime percentage means less downtime for your website. And downtime is something you don't want. The more time your site spends offline, the more customers you will lose. 
That's why we love Namecheap's 100% service level agreement for uptime. If an uptime of 100% isn't achieved, you get your money back. Now that's customer service. Namecheap can offer this because they have a history of strong uptime. There have been some minor dips in the past, but nothing catastrophic and nothing that didn't get it oh-so-close to the 100% mark. Currently, the average uptime sits at 99.97%, which is pretty darn close to perfect.
And, keep in mind that if your uptime isn't perfect, Namecheap will pay for it. 
Free Domain and Migration: If you have your website hosted with another provider but aren't happy with the services, Namecheap makes it cheap and easy to switch over to their plans. They are so cheap, in fact, that they charge you nothing. Yes, that's right; Namecheap offers free migration of your site from other hosting providers.
We are feeling pretty stellar about the shared hosting plans Namecheap offers. True to its name, they are indeed cheap and offer a great deal more than other basic shared hosting plans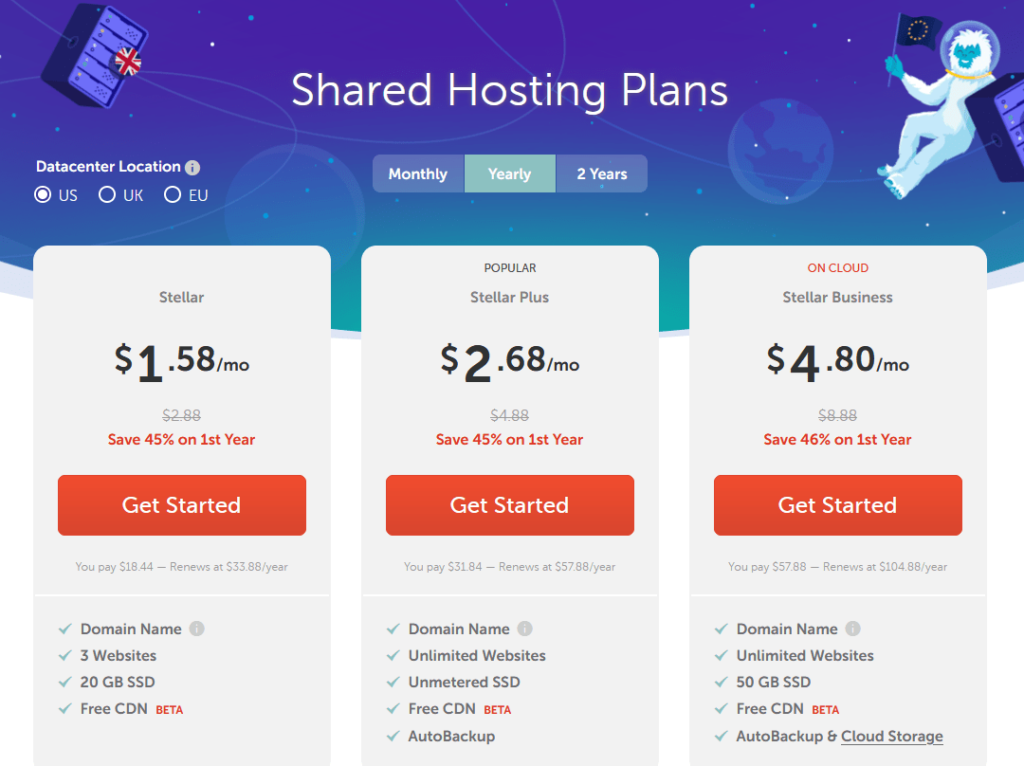 Stellar. This is the lowest level of plan with Namecheap, but you get a lot. Included are 20 GB SSD, three websites, a free domain name (for the first year), and free CDN. This package is priced at $1.58/month, billed annually. 
Stellar Plus. This package comes with unlimited SSD, unlimited websites, auto-backup, free domain name, free CDN, and more. You'll pay $2.68/month for this when billed annually. 
Stellar Business. For those looking to start a small website for their business, this may be right for you. You get 50 GB SSD, unlimited websites, auto-backup, cloud storage, free domain name, free CDN, and more. Pricing for this starts at $4.80/month when billed annually. 
Although SSL certificates are now mandatory, we've still got your back. In fact, all Shared Hosting plans come with 50 free PositiveSSL certificates for one year, which are automatically set up.
Deploy WordPress in seconds with the Softaculous app installer, which makes updating and maintaining your open-source applications a breeze. Considered worldwide as the best.
Need some help? Our dedicated team of hosting experts is standing by, ready to help via Live Chat. Whether you're just starting out or there's an issue that needs fixing, we're here for all your Shared Hosting needs.
Personalized Email Service
Enjoy a domain-based email address of your choice to represent your business and help manage communication. Here you can add email accounts, set up forwarders, enable auto-responses, create mailing lists as well as aliases. Jellyfish Spam Protection helps to protect against any email threats or viruses.
Namecheap WordPress Hosting
If you're planning to use WordPress, these hosting plans are for you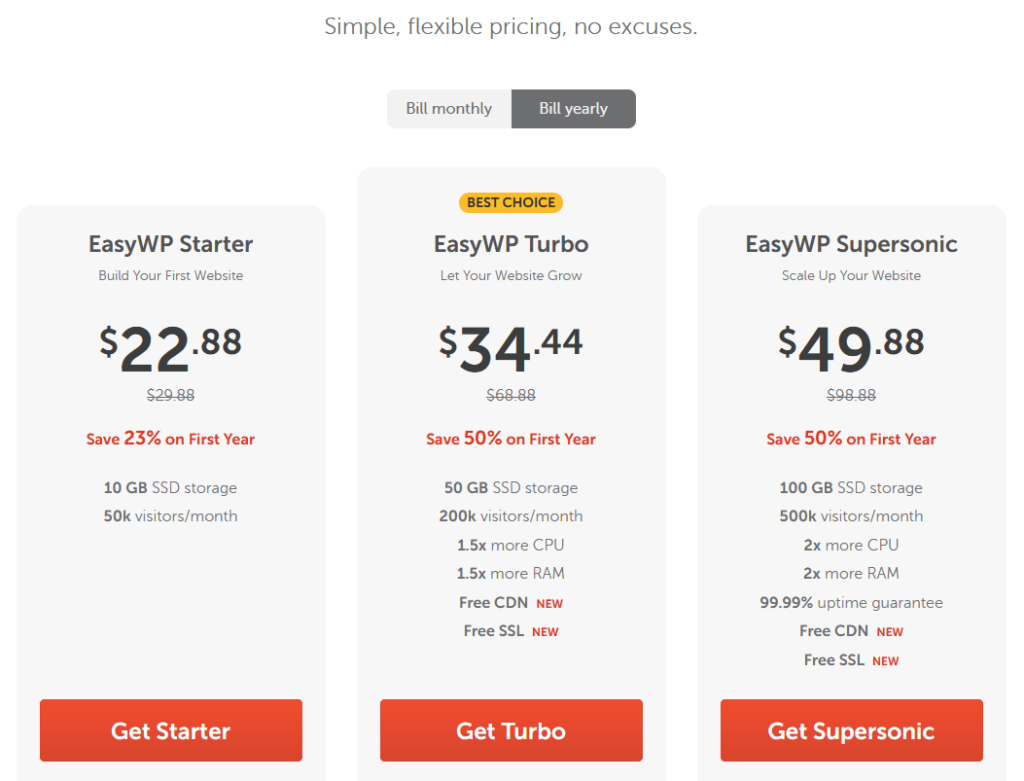 EasyWP Starter. This is great for your first WordPress website. This plan gives you 10 GB SSD and 50,000 visitors per month for $22.88/month, billed annually. 
EasyWP Turbo. Want to grow your WordPress site? Try this plan that gives you 50 GB SSD, 1.5 times more CPU, 1.5 times more RAM, free SSL, free CDN, and 200,00 monthly visitors for $34.44/month, billed annually. 
EasyWP Supersonic. If you want to scale your website to its maximum, this plan may be right for you. You get 100 GB SSD, two times more CPU, twice the RAM, a 99.99% uptime guarantee, free SSL, free CDN, and 500,000 monthly visitors for $49.88/month, billed annually.
VPS Hosting
For more control and flexibility with your website, VPS hosting plans are a great option.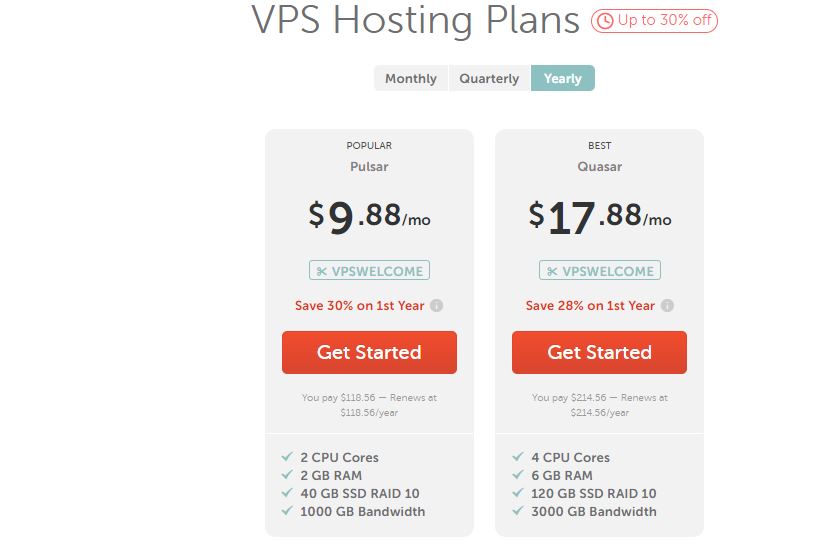 Pulsar. This popular VPS hosting plan gets you two CPU cores, 2 GB RAM, 40 GGB SSD RAID 10, and 1000 GB bandwidth. It is priced at $7.88/month, billed annually. 
Quasar. This plan is a great value and gets you four CPU cores, 6 GB RAM, 120 GB SSD RAID 10, and 3000 GB bandwidth. It is priced at $13.88/month, billed annually.
Dedicated Hosting
If you need your own servers to have free reign over what you do, then a dedicated hosting plan is something you should look into.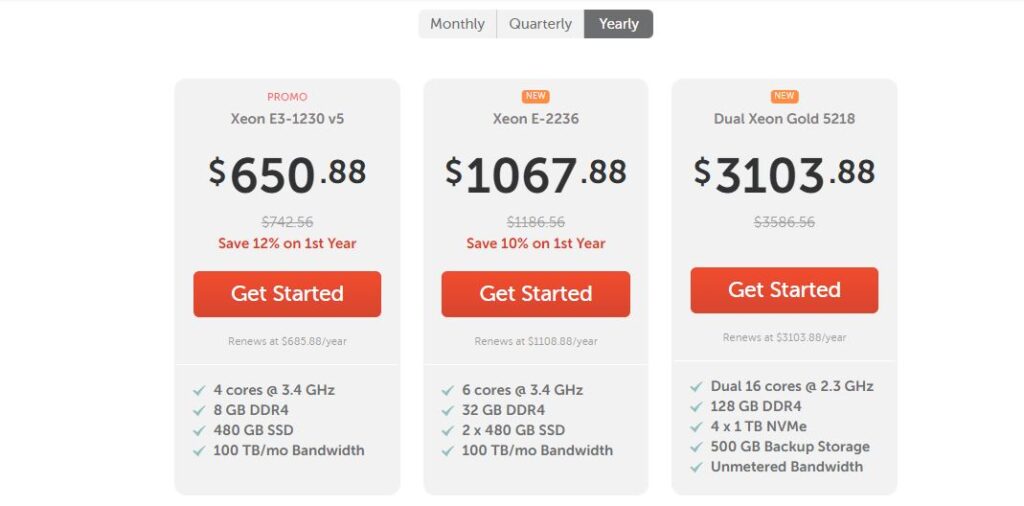 The different plans within the dedicated server plan offer some great options, depending on your specific needs. Once you get to this level of hosting, it is a good idea to connect with a Namecheap agent and see if you can get more information before making such a big purchase. As you can see, the plans range from over $600/month to over $1,100/month.
Dedicated Server Features
Free Migration
Want to transfer your existing server to Namecheap? It's simple and it's free. With zero additional charges to set up or install your Operating System (OS), you won't find hidden costs with us.
Airtight Security
Feel extra secure thanks to a private peering network, which provides you with stable connectivity for any website or application you may be running. Under Complete Server Management, our technicians will routinely monitor to check for any server issues.
Server Management Options
Manage your Dedicated Server exactly how you like. With three management options to choose from (User-Responsible, Basic or Complete), you decide how much control you want.
Optimized Network
Forget costly downtime or slow loading speeds. Your Dedicated Server operates on a separate Cisco/Juniper-powered network that's connected to Level3, Highwinds, HE, Cogent, and Integra, ready to handle any incoming traffic.
Disclosure: This content is reader-supported, which means if you click on some of our links that we may earn a commission.