7 Essential WordPress Plugins for a New Website in 2021 – MsterBlog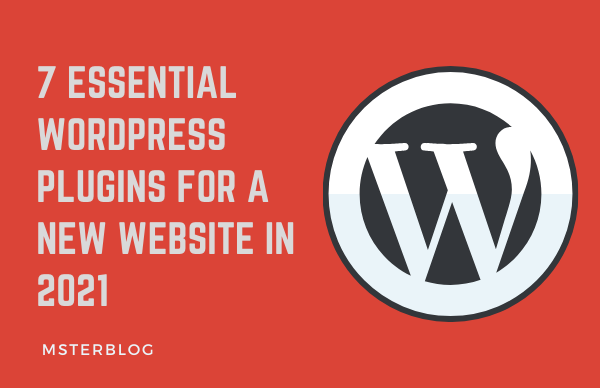 WordPress plugins are like apps for your WordPress website. They allow you to add new features to your website like a shopping, pop banner ,email subscribe, Contact form ,website security and more. A lot of this is due to WordPress plugins.
To make it easy, if you just want to follow text-instructions, then you can follow our step by step tutorial on how to install a WordPress plugin.
How to Install a Plugin
The easiest way of installing a WordPress plugin is to use the plugin search. First thing you need to visit the Plugins » Add New page inside your WordPress admin area.

You will see a screen like the one in the screenshot above. Find the plugin by typing the plugin name Example: yoast SEO, Updraft ,WpForms
7 Essential WordPress Plugins list
1.Yoast SEO:
Yoast SEO is a search engine optimization plugin for WordPress users. It's currently the most-downloaded SEO plugin and has a near-perfect rating in the WordPress Plugins database.
The tool has several helpful features in both its free and paid versions for almost anyone who focuses on optimized content for search engines, from beginners to experts. Not only can you use Yoast SEO to optimize content you've written in WordPress, but you can also use it to get your pages noticed in Google and Bing with its simple configurations of sitemaps, suggestions for cleaning up your URLs, and more.
Yoast SEO is a plugin that will help you and your clients optimize the words and pages on their websites. But that's not all.
One of the best things about the Yoast SEO plugin is that it covers so many critical SEO bases:
XML sitemap creation
Keyword optimization
Search results appearance optimization
Readability analysis and suggestions
Internal link analysis
SEO analysis and suggestions
Optimizing your content
There are several elements to SEO beyond just keywords. The way you use your keywords and write your content will also affect how you rank in search engines. Yoast SEO paints a full picture of your content in a simple way that even beginners can understand.
2.OptinMonster
OptinMonster is a lead generation software that allows you to install a lead generation form on your blog.OptinMonster is the most popular conversion rate optimization software in the market. It allows you to convert abandoning website visitors into email subscribers and customers.
This WordPress plugin and application helps you get more email subscribers and sales, fast
You have two methods to use OptinMonster with your blog. One is with their WordPress plugin and the other is to install it globally via Google Tag Manager. Personally, the fewer WordPress plugins the better performance for your blog. So I prefer installing OptinMonster with Google Tag Manager.
OptinMonster's powerful display targeting features allow you to personalize the campaigns for each user, so you can show the right message at the right time.
It's a great solution for bloggers, business websites, and eCommerce websites. Basically, if you want to make more money from your website traffic, then you need OptinMonster.
3.UpdraftPlus
UpdraftPlus is one of the most popular free WordPress backup plugins in the market today, with over one million active installations. In this article, we're going to review the UpdraftPlus plugin.
Backups and security go hand-in-hand. You can't have one without the other.
And while I've heard the argument that you don't need a backup plugin if your web host generates backups for you, I don't agree with that.
The reason I'm adamant about using a WordPress backup plugin is that I believe in failover. You should always have a backup plan or system in place for everything you do (including backups for backups) because you never know when one part of your business may go down or be lost.
With UpdraftPlus, you control how frequently your website is backed up as well as where those backups are stored
4.WP-Optimize
WordPress isn't just notorious for its security problems. It's also made quite a name for itself as a very slow CMS.
According to a Backlinko report on page speed, WordPress is one of the poorest performing CMS when it comes to average loading speeds:
But similar to the security issue, this is something that can easily be remedied from site to site.
One thing you can do is ensure that you use a web hosting plan that prioritizes performance, with built-in server caching and other server-side speed-ups.
Another thing you can do is use a performance optimization plugin.What's more, it integrates with UpdraftPlus, so you can automatically generate a backup of your site before doing any cleanup. You can also schedule cleanup and optimization so it's one less thing you have to worry about.
5.Sucuri
Security should be a top priority for all online business owners. Sucuri offers a WordPress security plugin and web application firewall that is probably one of the best protection you can get for your site.
They monitor and protect your site from DDoS, malware threats, XSS attacks, brute force attacks, spam comment attack, and basically every other type of attack. If you don't have a firewall on your website, then you need to add one today.
To learn more on how to strengthen the security of your website and protect your business, see our ultimate WordPress security guide with step by step instructions for beginners.
Sucuri help us block hundreds of thousands of attacks every month on WPBeginner.Another added benefit of Sucuri is that it automatically adds a CDN layer which significantly speeds up your site.
While there are other security plugins like WordFence, WP Activity Log, etc, none of them can offer the full protection that Sucuri does. The only real alternative is Cloudflare which can be quite expensive if you get their premium add-ons.
6.Shared Counts
Shared Counts is the best WordPress social media plugin that allows you to easily add beautiful social sharing buttons on your website.It also shows share counts, which helps you add social proof to your website.
While there are many paid solutions available, this free plugin beats them all in code quality and performance.We use SharedCount on a lot of our website because it offers an easy out of the box solution for both beginners and developers.
If you want to display more social proof by automatically showing your latest Instagram, Facebook, Twitter, and YouTube content on our site, then take a look at Smash Balloon plugins. They're used by 1.4 million websites, and it's the top social media feed plugin in WordPress.
.7.Contact Form by WPForms
There are certain pages and features that every website needs to have. The Contact page and contact form, for example, are non-negotiable.The contact form is a fast, easy, and convenient way for visitors to get in touch with the people on the other side of a website.Because of the vital role it plays in online communication, you have to be careful about which contact form plugin you use.